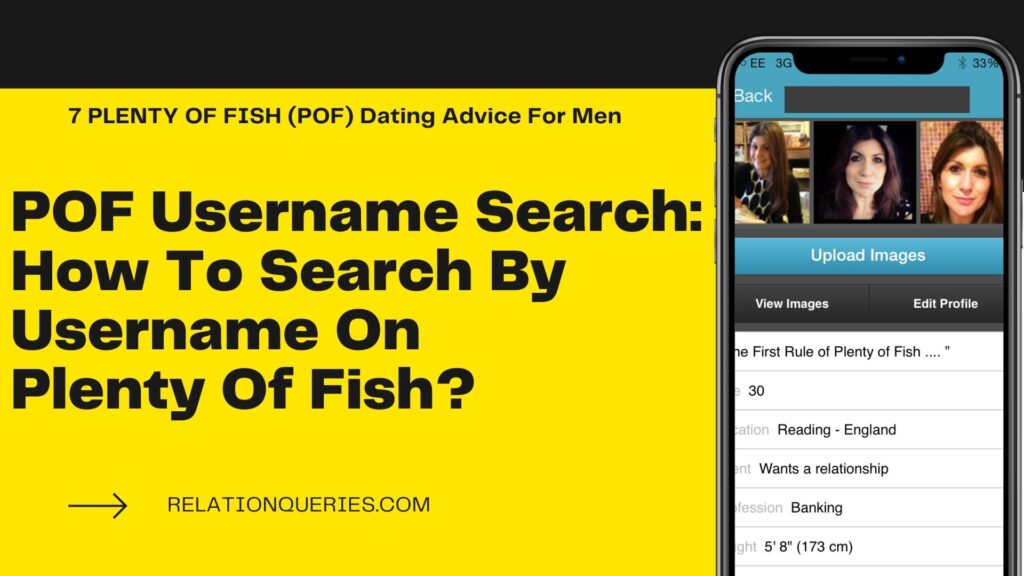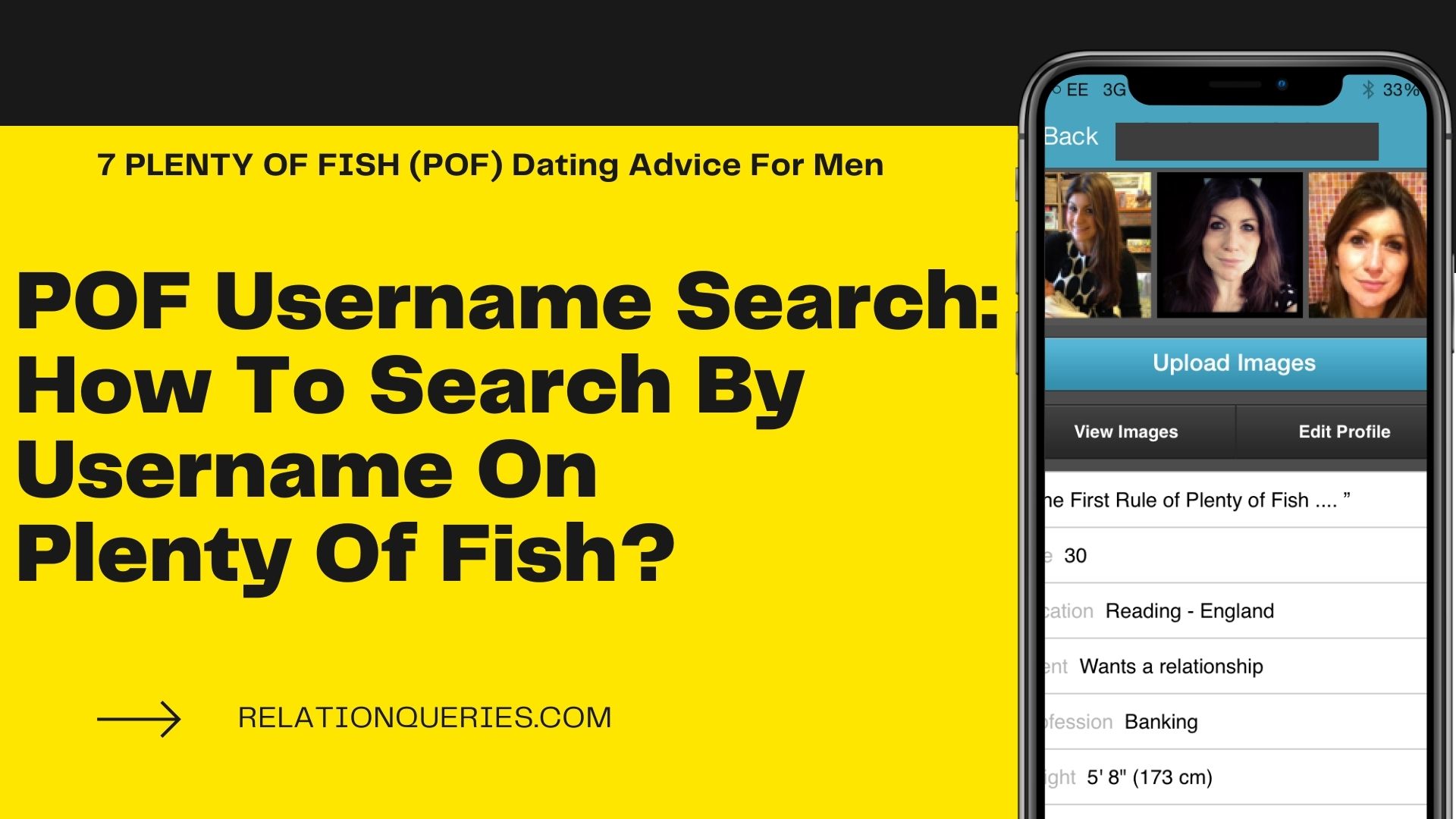 How To Search Plenty Of Fish By Username In 2023
How To Search Plenty Of Fish By Username In 2023? I wanted to show you all what I just found out about. I used plenty of fish (POF) back in my dating days that work pretty well.
I was recently asked how to find someone's plenty of fish profile based on username or picture.
You can always reverse the image online to see if you can find it that way, you can reverse it with images.google.com.
If you have a list of their emails or you have their potential usernames anything before the @ symbol.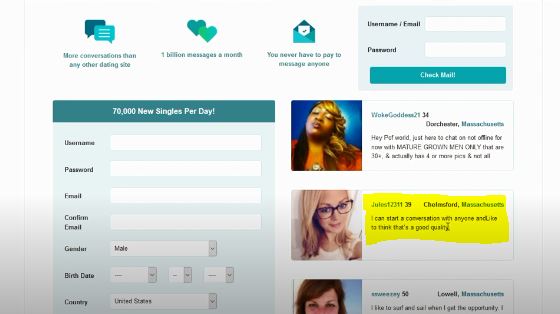 Eg, if this person's email right here might be [email protected]. 
I don't know, the girl is just an example of a profile but then she might have [email protected] and then a couple of others.
Obviously, she prefers that username, so I'm going to search for her on google.
One of their features to see if someone has a username, a very easy one that I knew about is putting it in here (username section).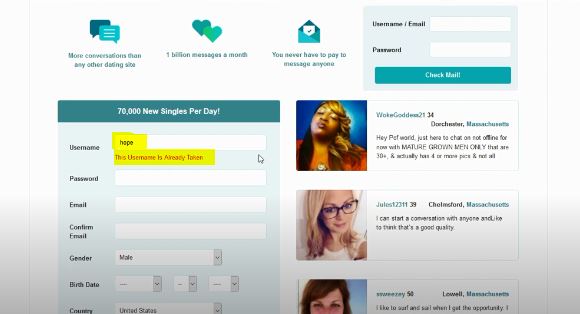 In this case, we're gonna do "hope", putting it in here (username section) and then you tap out and it says "usernames already taken" so we know that the username of someone on here, hopefully, it would be a little less generic than just hope.
What If You Have A Suspected Username And You Want To Find A Profile?
Let's just click on this Jules one here. In the past, plenty of fish (POF) would have the username right in the URL. They don't have that anymore.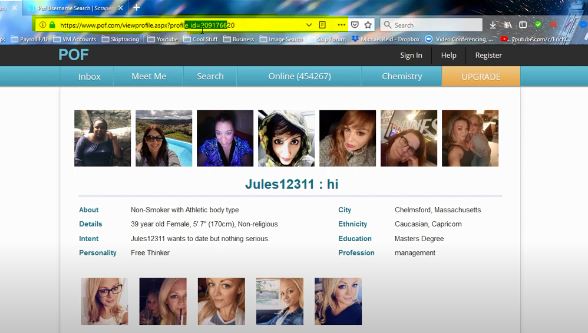 Now it's a profile ID so you can't find someone by username just in the URL.
It was another method, I could put Jules12311 and find someone just by that.
But you can't do that anymore. They change their policy a while back and it's just a profile ID up here.
They don't cache their usernames with Google so it's hard to do a Google search on them and find it. I mean I've tested it but it's pretty difficult.
What If You Have A Username In Mind And You Want To Find It?
You can go to the site scrapersnbots.com.
It's a pretty cool site, I mean it's not the nicest made site or anything but it's a pretty decent site.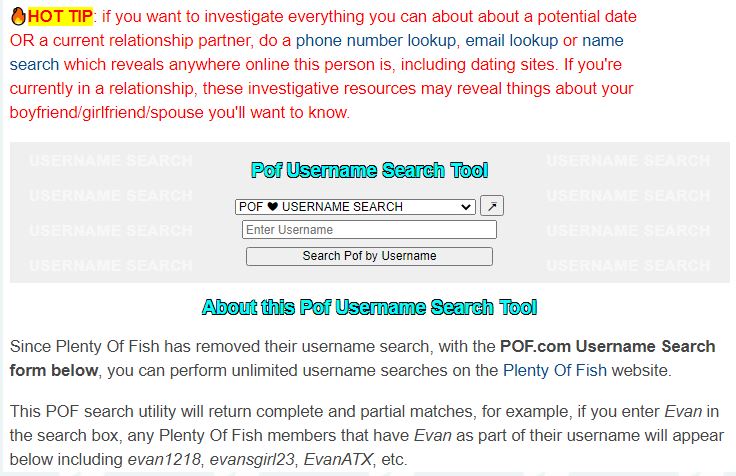 So right here you can search by POF username and it looks like you can search under a lot of different sites.
One thing that would be nice is if they took all this and they had a metasearch where you could put in the username and search all these sites here, but it seems like you need to choose one at a time.
So I'm gonna put "hope" here, I hope you have something a little less generic but I'm gonna put hope in there.
Search by username through plenty of fish, you can see it found zero paid upgrade members but 70 free POF members. (Most of them are free anyway)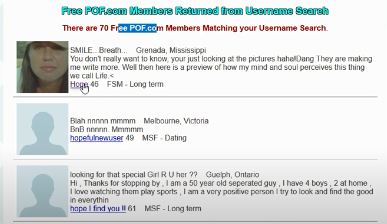 Anyone that has hope in their username like this person right here has just "hope", so maybe that's the person you're looking for. You can find the other profiles that have the word "hope" in them.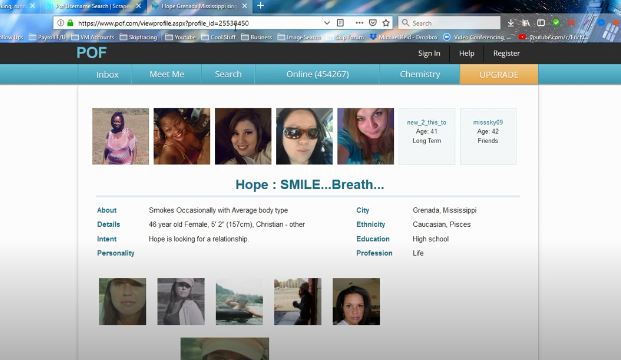 If I click on this, that'll open up the profile for me and you can see at the top of the URL, that it shows the profile ID but not the username.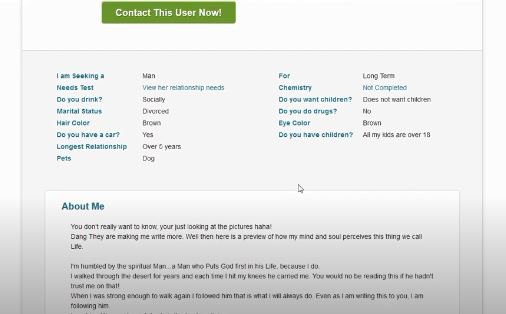 You can get this information on her city and some pictures to make sure it's the right person, Click "divorce" to get some more information there.
Then the "about me", I don't really care about this personal information but you can get all their information right there.
It's public information and nothing private. This is something somebody posted online.
This is the way I would find if I had a list of their emails and potential usernames.
This site can also be used for:
Adult Friend Finder Username Search
ASK.fm Username Search
Badoo Username Search
Bebo Username Search
Blogger.com Username Search
Chemistry Dating Username Search
Clash of Clans Username Search
Connecting Singles Username Search
Deviant Art Username Search
Disqus Username Search
eBay Username Search
Etsy Username Search
Facebook Username Search
Fiverr Username Search
Flickr Username Search
Fiber Username Search
GoodReads Username Search
GitHub Username Search
Reddit Username Search
Twitter Username Search
7 PLENTY OF FISH (POF) Dating Advice For Men
1. Don't pose pictures of yourself with different girls
Don't pose pictures of yourself with different girls in every picture, it makes you look like a kind of player. Don't post pictures of yourself with beer or wine bottles in your hand, it makes you look like an alcoholic.
Posting pictures in your boxers make sure looks like a hoe and yes you might say "well who cares, I'm a guy".
A respectable woman who is looking for a serious relationship isn't want to write you, only a girl that probably just wants sex will write you and if you're just looking for that, go right ahead. Post a real recent picture of yourself, not five years or ten years old pictures.
If you don't post how you really look, the person will think that you are trying to trick them to meet them and will not be interested in you when you meet them, so you're wasting your time.
Just be yourself and the person who likes you for who you are will like you based on how you really look.
2. Your Usernames Should Be Decent
Your usernames, "ladiesman69, cuddly bear, and Mrniceguy", seem like you're trying to play a nice guy card and you want to make females feel sorry for you, and usually, that's not a good thing, it's a turn-off.
3. Don't Brag About Your Wealth
Bragging about your wealth or showing all your possessions. Post pictures of yourself next to your big house, your cars, your boats, etc. That will attract gold diggers. Your profile should be about you not what you have.
4. Don't Write Her Again And Again
If she doesn't write you back don't write her again, it makes you look desperate. She got your message, she read and she probably just deleted it. She's the wrong person for you if she ignores you.
When you meet the right person, she will write you back and she won't ignore you.
5. Be Realistic
The attraction is important but you have to be realistic. Every girl isn't going to look like a Barbie or like she's running down the beach of Baywatch.
Most girls in the row are Everage looks, which means that your Mrs. right is the girl next door average girl and not the Barbie look-alike.
Don't look for someone perfect, look for someone real, and if you're not perfect, don't expect your significant other to be perfect either.
6. Send Two More Messages
Two more messages you send, the better your chances. If you only send one or two emails now and then. Your chances of meeting someone are slim.
If you send out a million emails, it betters your chances. However, don't send copy-and-paste messages.
7. Be Yourself
Be yourself and don't lie about anything about yourself. I have heard stories of people lying about themselves and once someone found out the truth, they lost trust in that person, and Trust it's a very important part of a relationship.
If you start a relationship off of Lies, it will fall apart when the truth comes out. Be yourself and the right person will like you for who you are.
When a guy lies about something, women weren't really mad about when he lies, they were mad because he lied, and then they couldn't trust him anymore and will wonder what else he lied about.
FAQs
How To Search (Plenty Of Fish) POF Username?
In this case, we're gonna do "hope", putting it in here (username section) and then you tap out and it says "usernames already taken" so we know that the username of someone on here, hopefully, it would be a little less generic than just "hope".