I don't want to pay for a freaking dating service. There are seven amazing free online dating sites with no membership needed for you to try out right now.
Sometimes online dating is synonymous with expensive and sometimes some sites are a little bit out of control, but there are still free online dating sites out there and some fantastic ones.
Some are completely free the entire thing and some are free but if you choose you could pay for premium features, but you don't have to.
There's a wide variety out there for you to try out, we're hoping that this article will help anyone who is budget-conscious, who just doesn't feel like investing a lot of money into something that they haven't even tried yet.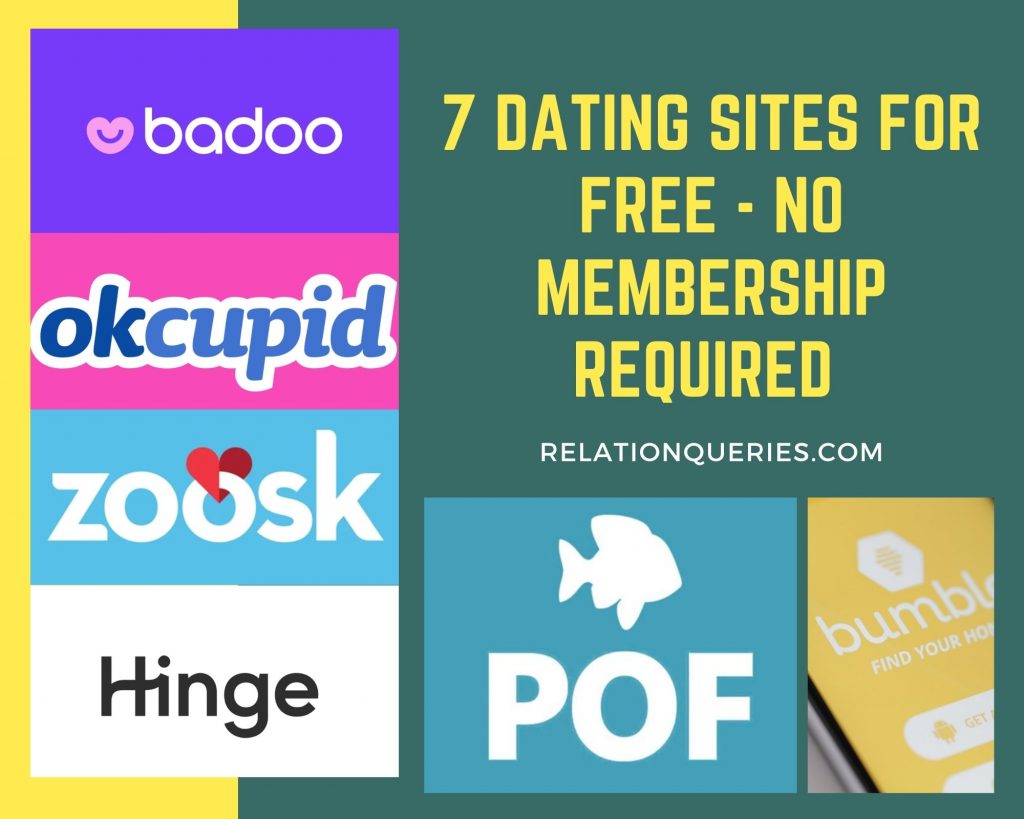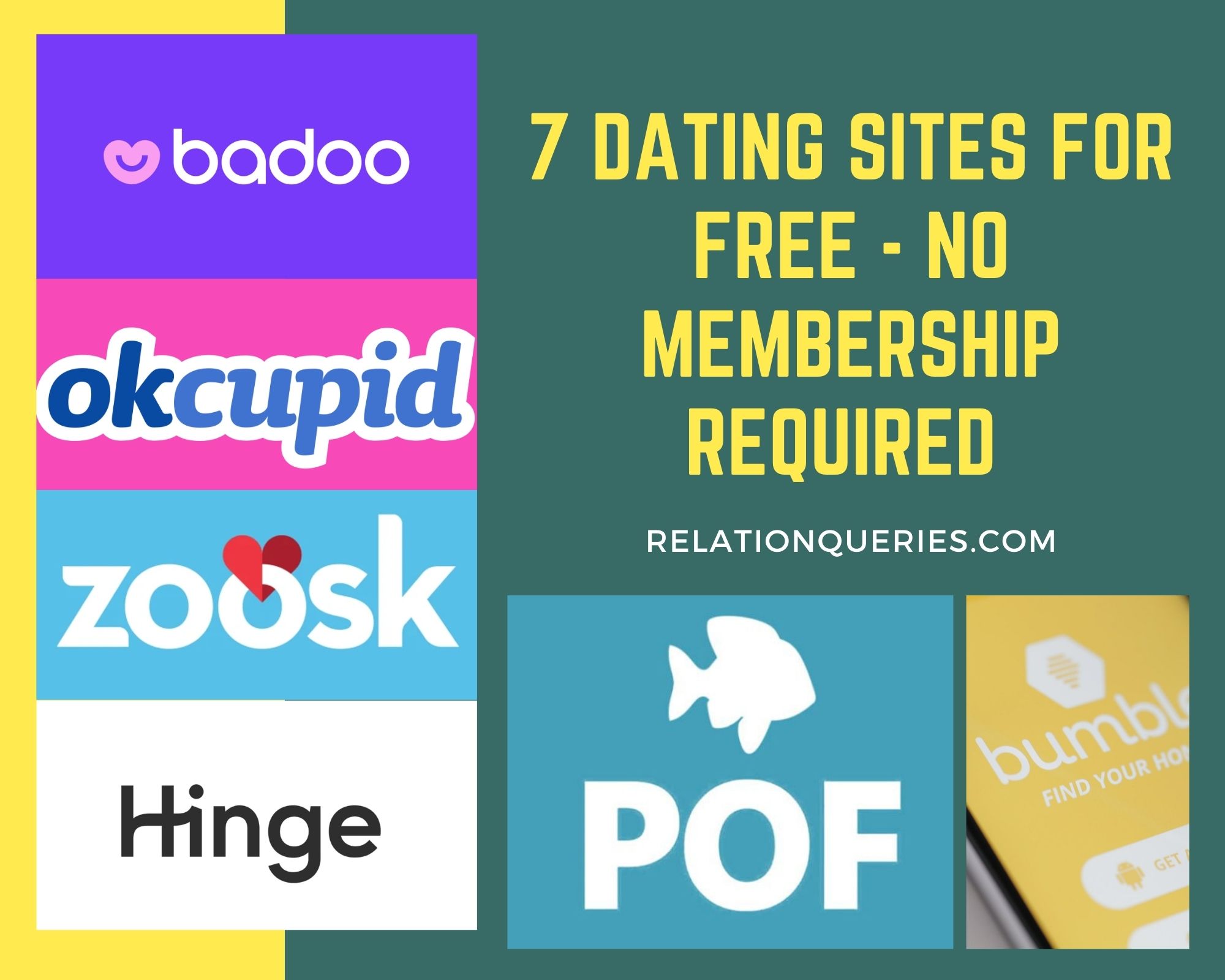 7 Dating Sites For Free – No Membership Required
Let's get into the list of the seven best completely free online dating sites with no membership. So I have put these in pacific order based on price, registration process, how easy it is to make contact with somebody else, success rates, quality of the profile, and much much more.
1. OkCupid
OkCupid was born in 2004 and it has been making major strides in the online dating world ever since.
OkCupid is known for its inclusivity, they've got lots of genders and sexual preferences, orientations to choose from, and relationship types, from monogamous to polyamory. I mean it is inclusivity at its finest. 
OkCupid is for everybody, which is why it makes it even more amazing that it is a hundred percent free because OkCupid offers a lot more options than some of the popular and more mainstream dating sites out there that you have to pay for.
OkCupid also allows you to answer a lot of questions which then gives you a compatibility rating compared to the person you are potentially matching with.
You can see which questions you guys have answered the same and which questions you disagree on.
There are all questions that you don't have to answer, there are completely voluntary so you can answer a ton of them, and based on those results you will get compatible matches that hopefully align with your ideas.
I'm really grateful that there is something like OkCupid that allows so many different types of people to enjoy online dating.
Of course, it's not perfect, it's not the most beautiful website all around and sometimes you are sort of trapped if you answer too many of those voluntary questions because then they take the answers for all of them seriously and that helps you get supposedly compatible matches.
You'll get carried away answering all of the non-mandatory questions and having fun not realizing that your answers are going to directly impact the matches you get. 
Based on those answers you might significantly lessen your dating pool. That's one problem that might arise.
Only answer the most important questions on there so that you don't have your dating pool reduced for questions that you might not care about.
But overall honestly OkCupid is a fantastic site and it is just so amazing that this grid of the site is completely free to use.
Such a user-friendly interface and it's just so inclusive and it's just got big thumbs up from us.
2. Badoo
Badoo has a huge demographic makeup being available in over 250 different countries. It has a multilingual option and you can use it in over 47 different languages.
Badoo breaks all limits in terms of geography and uses it as a powerful force to bring people together.
I'm not going to lie to you, It's not the best-looking site but it doesn't necessarily need all the bells and whistles to be a good site to use for free.
3. Plenty Of Fish (POF)
Plenty Of Fish started in 2003 so it's one of the older online dating sites. Plenty of fish boasts 90 million registered and active users.
You can be specific as you want, you can look for something like casual to marriage, as specific as you want to be (the more specific the better). 
POF Username Search – How To Search Username On Plenty Of Fish?
You can even complete a personality test upon making your plenty of fish profile that will then give you compatibility results to find your perfect match.
The site is also very functional and easy to use which is great especially if you're not usually tech-savvy. 
Plenty of fish is great for people who are clear with what they're looking for in a partner and it's a great option for a free online dating site.
4. Tinder
Tinder is of course one of the most popular dating apps in this day and age, everybody knows and has heard of tinder. 
It's got an incredible amount of users, registered using it daily,
and it has some of the best up-to-date technology when it comes to online dating apps. 
It has set the bar for usability, unlike some other dating sites you cannot look for a person specifically, you can only find people through chance by just swiping.
I mean you do have the option for some special things like super liking.
If you super like someone they're guaranteed to see you eventually and they will know that you super like them and then they have a better chance of seeing your profile inciting if they want to press like on you as well.
There are a few premium features that you can use, some are free some you need to pay for on tinder but for the most part, it is just that swiping system, you're gonna swipe left we're gonna swipe right and that's mostly what you see on the app.
This platform is mainly used by the younger generation from 18 to 35, but anybody is welcome and any type of relationship can be found on tinder. Though it does usually lean towards more casual.
5. Zoosk
zoosk opened its digital doors over a decade ago and immediately brought in a big audience due to its original designs.
Zoosk actually uses unique behavioral matchmaking technology, which means that members are suggested to each other based on how they use the site. 
This is so different than the usual matchmaking technology of other apps which rely heavily on personality tests and questionnaires.
This site is well organized and simple to navigate though it doesn't have the most outstanding design.
Besides an amazing collection of various dating advice tips and success stories, the site hosts an engineering blog as well.
The platform is well integrated with how other modern apps and technology work so it's definitely well suited to the younger generation.
6. Bumble
Bumble made a splash when it first came on the scene for having a totally unique design.
On bumble men cannot message women first, women must message men first and if they don't do it within a certain time frame they lose their chance.
Encouraging women to be more proactive and confident this platform was designed by women for women.
It's very simple and quick to make a bumble account, you can use your Facebook if you want to or your email and you're done very quickly.
Bumble is a fantastic app to have free not only for dating but also if you're looking for friendship or a business partner because they have bumble biz and bumble bff which are different sections of the app specially designed for business partners and friendships.
Amazingly, this is 100% free unless you choose to upgrade to get some special features.
7. Hinge
Hinge is a super unique dating app because it has a motto designed to be deleted. It was founded in 2012 by reworked in 2015 and its goal is to be deleted, it is not messing around.
Hinge takes seriously the task of finding matches for people and finding love for people who are looking for it. Even when you finish a date with somebody you can write how the date went and it prompts you to then delete the app.
There are 5 million members on the Hinge and over 50 percent of those are actually in the u.s. Most active hinge members are between 24 and 32 and they are usually looking for something more serious.
Hinge profiles are very detailed and usually, they have lots of information about their members on them.
7 Dating Sites For Free With No Membership Or Payment Required – 2021
1. OkCupid
2. Badoo
3. Plenty Of Fish (POF)
4. Tinder
5. Zoosk
6. Bumble
7. Hinge