How To Get Your Life Together? 4 Steps To Get Your Life On Track:- Getting your life together. It seems like the ultimate millennial pursuit. And just like you, I get burnt out, anxious, and stressed. 
For me, it's finding four types of clarity:- 
Physical
Mental
Spiritual
Financial 
These are all intersectional by the way.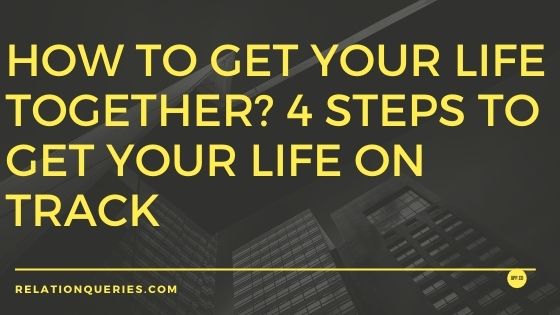 How To Get Your Life Together? 4 Steps To Get Your Life On Track
How To Get Your Life Together In 4 Easy Steps
Physical Clarity
I feel that my physical space is a reflection of my inner chaos. There's a UCLA study that says similar to what multitasking does to your brain, physical clutter overloads your senses, making you feel stressed and impairs your ability to think creatively.
One space that requires the most attention is my closet. I apply the KonMari method and I roll most of my clothes to save space, and I fold rather than hanging my sweaters.
I read somewhere online that horizontal spaces attract the most clutter, and I find this to be very true, so I always make sure to clean up all my tabletops and desktops. 
Just like space, the skin is a physical manifestation and my skincare routine is a daily ritual that is somewhat both meditative and a form of aromatherapy.
I'm excited to be celebrating the skin I'm in with L'occitane's Immortelle Divine Cream which fights visible signs of aging and has SPF20 to prevent UV damage.
I have the Immortelle essential oil for that youthful radiant glow, and it's just celebrating that true beauty needs to filter. 
Mental Clarity
Growing up, I felt like I spent so much of my time being insecure about the way that I looked and I wonder how much more productive and well-grounded I would've been if I just focused all that energy on empowering myself. 
I was told to get plastic surgery on a daily for my monolids, and today I suffer from mild to moderate adult acne, but you know, as I get older, I realize sometimes the weight you need to shed is simply not physical.
One of my biggest insecurities has always been my upper arms. So recently for my 25th birthday, in honor of recognizing how awesome it is to be me and to have these arms, I decided to get a huge work of art (Tatoo) on it and it's been helping me to empower all that is me.
So for my mental and also spiritual clarity, I make it a daily practice to recognize the privilege it is to be me. No one is you, and that is your power.
I embrace the skin I'm in, the acne-prone, mono lidded version of me. I take a lot of personality tests that tell me because I'm someone who lives greatly in her head, I should take the time out to be in nature, and one of my favorite places to be in the ocean.
The serenity the beach brings me can easily move me to tears at any moment. It's where I find solace and it's here where I find not only my mental, spiritual but also physical clarity.
It's where I feel the freest, the most at peace. I try to come out as often as I can. Getting fresh air, moving my body, makes me feel so alive.
Every day, I try to live more and more transparently and I try my hardest every day to center myself because there is no filter needed other than the skin you're really in.
Spiritual Cleansing
I consider myself a spiritual person. I do believe in higher consciousness, and so my spiritual practice is one of the utmost highest importance to me in getting my life together. So I often Palo Santo my space and rid it of any negative energy. And then, often, meditate.
Oak is one of my favorite free apps and I usually just YouTube any free meditations.
As someone who has always identified with her thoughts more than her feelings, I find myself to be the most productive when I can reach higher levels of introspection.
I try to journal as often and frequently as possible. Usually, it's without a prompt, but I'm a huge fan of tarot card readings online, so sometimes I look up some readings. I have a few of my favorites on YouTube. 
I just like to journal what I think might be predicted for the march and I take what I resonate with it and what I don't and I reflect, and it's just really fun to see what manifested and what did not.
If you're not someone who can just freehand journal, these are some of my favorite guided journals that I have from "The Daily Stoic" to "The Five Minute Journal."
Planning
In college, I was a frequent planner, and I still to this day cannot live without my moleskin, but these days, my iCal and my monthly planner on my desk are usually my go-to because they're just right there.
I typically like to spend planning out the month, then filling in important dates, and then just transferring that all into my monthly calendar on my table. 
Financial Clarity
Money plays a huge role in our lives. I like to make sure that I'm caught up on all my bills and just make sure I'm on time for rent, credit cards, no overdraft fees, and one of my favorite finance managing apps is called Clarity.
It was an Instagram ad app for me, and it worked. It tells you how much you might've spent on one item and how to save up for a rainy day or a house, and it gives you an estimated soft credit score.
I also like to make sure I've deposited any leftover money saved in my Venmo or Cash Apps because one time, I had $1,000 just sitting there from Coachella.
I also make sure to activate any cash back rewards on my credit card and also redeem any cashback points once in a while. 
Special Tip
Getting enough sleep, six to eight hours, and eating right, so whether that's cooking at home or eating more whole foods, always helps you get back on track to leading a more successful and productive life.